Coventry City fans invade pitch at first League One game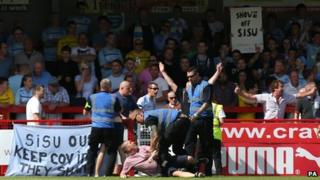 Protesting Coventry City fans caused a three-minute stoppage during the club's first League One match of the season.
The Sky Blues went into administration in March, are set to play home games in Northampton, have been deducted 10 points by the Football League and face liquidation.
About a dozen fans ran on to the pitch when the team went 2-0 down in the first half at Crawley Town.
Stewards and police chased them before wrestling one to the ground.
Crawley eventually beat Coventry 3-2 with an 84th minute winner after Coventry had drawn level.
Coventry City FC Ltd went into administration in March following a row with Arena Coventry Limited over rent.
It faces liquidation after ACL, which runs the Ricoh Arena, rejected a Company Voluntary Arrangement this week.
But an application by the Otium Entertainment Group for a transfer of the club's share in The Football League has been accepted and they have been allowed to compete in League One.
At a meeting on Friday, Otium Entertainment Group, who recently took over the Sky Blues from previous owners Sisu with whom they have links, and ACL, the club's main creditor, failed to come to an agreement.
Had the CVA, a payment scheme between an ailing company and its creditors, been accepted, the club may have been able to come out of administration.
At the start of July the club announced it would be playing its home games for the next three seasons at Northampton Town's Sixfields Stadium, 34 miles from Coventry, a move which has generated much opposition from fans.