Daniel Pelka murder: System can 'never prevent' all child deaths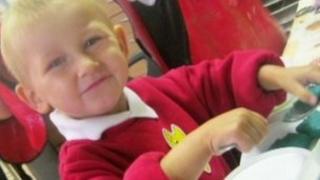 Children's services will never be able to prevent all child deaths, like that of Daniel Pelka, according to the head of their professional body.
The four-year-old died from a head injury in Coventry in March 2012.
Birmingham Crown Court found his mother and her partner guilty of his murder.
Andrew Webb, from the Association of Directors of Children's Services, said: "There is something about the human condition which leads to parents killing their children."
He told the BBC: "We will never prevent all child deaths."
Mr Webb said 50 to 70 children died at the hands of their parents or carers every year.
The figure includes children who die from being shaken, those killed by a parent involved in custody battle and a "very small group of children who are neglected," he said.
'Vile and evil'
Mr Webb said that every year for the past four or five years there had been an increase in the number of referrals to children's services for neglected children.
"Our system is picking up more neglected children but there are some who, as we've seen, the system doesn't pick up, can't deal with, or, in some cases, the system has failed. But they are very rare," he said.
During the nine-week trial Daniel's emaciated body was likened by a doctor to that of a concentration camp victim.
The court heard Daniel's head injury was one of 30 he suffered and he weighed just 14.8kg (32.6lb) in January 2011 and 13.8kg (30.4lb) three weeks before his death.
His mother Magdelena Luczak, 27, and her partner, Mariusz Krezolek, 34, had denied murder.
The couple, who never took Daniel to see his GP, had colluded in covering up an earlier act of cruelty in which Daniel's left arm was broken "clean in half" by Krezolek in a fit of temper.
Jurors were also told how Daniel was left to die in his room, described as an unheated "cell", for about 33 hours after suffering a fatal head injury at his Coventry home on 1 March last year.
Deputy Prime Minister Nick Clegg described the murder as "vile" and "evil" during a phone in on LBC Radio.
'Adept at lying'
"Clearly people must have seen something was wrong with this boy. I think his death should be on all of our consciences," he said.
Asked what the Government could do in response, Mr Clegg said it had already "simplified the way in which child protection is organised".
Russell Hobby, from the National Association of Head Teachers, said schools were "at the heart of trying to protect these kinds of children".
"The difficult situation is where there is malice or indeed evil involved, where the parents can be quite adept at lying, they miss appointments... they move on to the next school," he said.
Daniel's death is the subject of a serious case review by Coventry's Safeguarding Children Board and a report is due to be published in the next six weeks.
The review will look at why police and social services did not get involved after staff at Daniel's school - Coventry Little Health Primary School - noticed bruising on his neck and what appeared to be two black eyes.
The trial heard Luczak played a leading role in convincing teachers and medical professionals that the child's dramatic weight loss was due to a rare genetic disorder.
The pair are due to be sentenced on Friday.