Coventry WWII DC-3 plane flown to new home in Berlin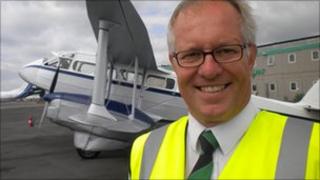 A World War II transport plane has flown out of Coventry Airport for the final time to make its way to a new home in Berlin.
The former RAF Douglas DC-3 has been used for passenger services by Coventry firm Air Atlantique since 1981.
Its new owner, Air Service Berlin, plans to keep it flying as a permanent memorial to the 1948-49 Berlin airlift.
The DC-3s were used to fly supplies into the city after it was blockaded by Soviet forces.
Trevor Bailey, from Air Atlantique, said: "It is sad to see her leaving Coventry.
"She was made surplus to requirements by the RAF but has been earning her keep on a number of airlines around the UK, including us."
He said the company had two further DC3s which were currently based in the East Midlands.
Pilot Steffan Vardeen, from Air Service Berlin, said the plane would be fully refurbished including stripping the paintwork back to the original polished aluminium.
"It is like a vintage car because it is a big plane without hydraulic systems and very special, it's a lovely feeling to fly it" he said.