Daniel Pelka case: Judge urges jury to avoid emotion in murder case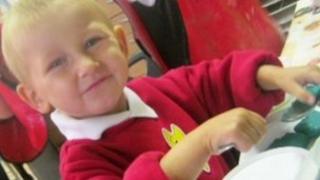 Jurors in the trial of a woman and her partner accused of murdering her young son have been urged by the judge not to be swayed by emotion.
Magdelena Luczak, 27, the mother of Daniel Pelka, is also accused, along with Marius Krezolek, 34, of causing or allowing the death of a child.
The four-year-old died in hospital in Coventry on 3 March 2012 from severe head injuries.
In her summing up, Mrs Justice Cox said it was an "emotive case".
She told the jury at Birmingham Crown Court that it was not disputed that Daniel had died from a traumatic head injury, which caused brain damage.
But what was disputed was who was responsible for his death.
The prosecution says the pair conducted a joint campaign of escalating cruelty against Daniel in the months leading up to his death.
But on Thursday, in his summing up, Ms Luczak's barrister Stephen Linnehan said she was guilty of the "dreadful crime on the third count of the indictment, permitting the death of her child, but she is not guilty of his murder".
Both defendants have given a different version of events of what happened and point the finger of blame at each other.
They have admitted a charge of child cruelty, but deny the other charges against them.
The trial continues.