242 jobs go at Greenwoods Communications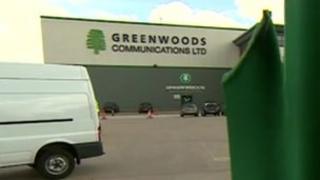 More than 240 jobs have gone at one of the UK's leading independent communications firms.
Staff at Greenwoods Communications in Coleshill, Warwickshire, were told on Thursday that the business, which worked with major mobile phone operators, was closing.
The Greenwood family built the firm up until new owners took over earlier this year, Warwickshire MP Dan Byles said.
It had cashflow problems and been in limited administration, he added.
"I had been working with the company at the tail end of last year and early this year in getting HMRC to defer payments and the like," the Conservative MP said.
"It seemed to be getting OK again and I thought they had turned a corner.
'Very sad'
"I stepped back a bit then, so I'm not sure what's changed since. It's very disappointing and frustrating.
"They were one of the UK's leading independent communications firms, founded by John Greenwood and built up by him and his daughter, so it's very sad."
In a statement, joint administrators Deloitte said the firm provided manufacturing services and engineering repairs to telecommunications companies, employing 210 staff at its leasehold premises in Coleshill, Birmingham and 58 field engineers across the UK.
About 26 workers are being kept on to help with "the transition", Mr Byles said.
Staff will be paid until the end of the month and will receive redundancy payments, he said.
One worker, who did not want to be named, told BBC News that staff were "resigned" to the firm closing as they knew the firm had been in trouble.