Coventry Sports Centre pool closed after teen rescue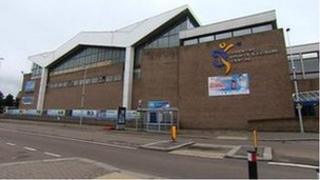 A swimming pool in Coventry has been closed after a teenage boy had to be pulled from the water by a lifeguard, police have said.
West Midlands Police said they were called to the Coventry Sports Centre in Fairfax Street just before 16:00 BST.
The boy was taken to University Hospital. The exact nature of his injuries are not known, officers said.
The pool will remain closed while a health and safety examination is carried out, a spokesperson added.
Richard Parker, the centre's general manager, confirmed it was working with the police and emergency services, but would not comment on the detail or nature of the incident.
He said the centre had launched its own preliminary investigation, and that a more complete statement would be released on Thursday.