Coventry City ground share 'a disgrace' MP says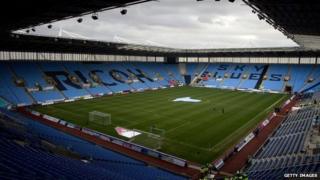 The decision to allow Coventry City to play at Northampton has been labelled "a disgrace" in Parliament.
Jim Cunningham, MP for Coventry South, slammed the move as politicians urged the government to meet the club over the ground sharing plan.
Coventry City later accused Bob Ainsworth of defaming the club.
The MP's claim that the club had no intention to return to the Coventry area were "without foundation", a Sky Blues spokesman said.
The Football League has allowed the club, which has been in administration since March, to play home games 34 miles away at Northampton Town's Sixfields Stadium.
It follows a rent dispute with the owners of the Ricoh Arena which had been Coventry's home since 2005.
'Grossly defamatory'
On Thursday, Labour's Jim Cunningham and Geoffrey Robinson signed a Commons motion urging Sports Minister Hugh Robertson to convene an urgent meeting with the club's owners, the Football League and the city council.
But Mr Ainsworth tabled another motion condemning the League for allowing the move to take place, accusing the owners of a "deliberate strategy" to put itself into administration and running up debts worth several million pounds.
In response, the club said it appreciated the "genuine concern" felt by MPs and their constituents but challenged Mr Ainsworth to repeat his claims outside Parliament where he no longer holds any legal privileges.
"These statements have no foundation whatsoever in fact and are grossly defamatory," the club said.
"If Mr Ainsworth genuinely believes his statements to be true, we respectfully invite him to repeat them outside Parliament and not to hide behind parliamentary privilege.
"If he is not prepared to do this, we can only conclude that he does not in fact believe them to be true, in which case he should immediately withdraw them."
Fans protest
Mr Cunningham told the house: "The Football League has made the decision that the football club can now play in Northampton - a round trip of 70 miles at great expense."
Leader of the House of Commons Andrew Lansley advised Mr Cunningham to try to get an adjournment debate on the subject and promised to raise the ground share with the Department of Media, Culture and Sport.
The Sky Blues had been looking at options for a new stadium after being involved in a rent dispute with Ricoh owners Arena Coventry Ltd (ACL) for more than a year.
The League One club has been bought by London-based Otium Entertainment Group, but will remain in administration so until they arrange a Company Voluntary Agreement (CVA) to pay creditors.
The Football League said it had "reluctantly" approved the club's request to play their home games at Northampton.
About 100 Coventry fans protested against the club moving out of the city in June.