Daniel Pelka murder trial: Stepfather 'lied to police'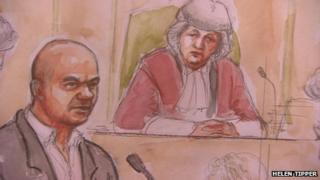 A man accused of murdering his four-year-old stepson has admitted lying during police interviews to protect the boy's mother.
Mariusz Krezolek, 34, claims Daniel Pelka died in March 2012 after falling several times in their Coventry home.
He told Birmingham Crown Court he lied to police to take the blame for Magdelena Luczak, 27, who he said had prevented him from calling 999 after Daniel fell unconscious.
The pair deny murdering Daniel.
Mr Krezolek, giving evidence through a Polish interpreter, said he offered to "take the blame" for Ms Luczak before they were interviewed by police.
'Talking rubbish'
He was interviewed by officers 14 times after Daniel died on 3 March and was asked by defence barrister Nigel Lambert why he had not told the truth.
Mr Krezolek replied: "At the hospital when it all started, even in the ambulance, Magda started talking rubbish about Daniel's chest pains.
"Then things were added in hospital as well. I simply repeated what I had heard because I didn't want to harm Magda."
He said he did not want Ms Luczak to go to prison.
Mr Krezolek said he believed Ms Luczak could have gone to jail because "we had a lot of time and did not take the child to hospital".
In his evidence on Tuesday, Mr Krezolek told the court Ms Luczak prevented him calling an ambulance after Daniel fell because she was concerned social services would notice bruises on him.
He said the boy had lost unconsciousness while Ms Luczak was getting him ready for a bath and Daniel was left for about 36 hours after his fall before he was seen by a paramedic.
The boy died shortly after being taken to Coventry's University Hospital from a severe head injury.
Mr Krezolek said Ms Luczak had threatened him when he suggested calling for an ambulance.
He told the jury: "I said if she didn't want to admit it, I would take the blame - all of it."
'Actually grinned'
When asked how he felt about what happened to Daniel he said he felt "very bad" about not having helped him and "truly sorry" that he died.
"If I had known that would happen I would never have listened to anyone, I would have taken him to hospital," he said.
But under cross-examination by Stephen Linehan QC, Mr Krezolek denied he had been "pretending" during his evidence on Tuesday.
Mr Linehan said: "When the jury left this court yesterday afternoon you had your face screwed up as a person might if they were feeling grief, but the moment the jury had gone through the door and could no longer see you, that expression disappeared didn't it, and as you left that witness box you actually grinned didn't you?"
Mr Krezolek replied: "No."
Mr Linehan said he played a "leading role" in depriving the child and became so angry about Daniel taking food from school that he began to stop his food at night.
He fed him salt and water so that he was sick and brought up the food he had eaten at school before his body could gain proper nourishment from it, Mr Linehan said.
But Mr Krezolek said the reason Daniel became so emaciated was because the food he was given was "completely inadequate".
The trial continues.