Lady Godiva puppet to get Coventry homecoming parade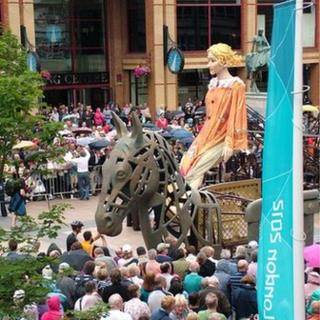 A huge puppet version of Lady Godiva that travelled from Coventry to London as part of the 2012 Games is to return to its home city.
The puppet was carried to London on a purpose build 50-seater bike or Cyclopedia to represent the West Midlands region at London 2012.
The 20ft (6m) high figure will be ridden around Coventry's ring road as part of its homecoming on 10 August.
The cost for the Godiva Awakes project was £2.8m.
It was funded by Arts Council England and Coventry City Council and private investors, said a spokesperson from Imagineer Productions, the firm that co-ordinated the project.
Puppet clothed
"The idea is that Godiva will return the way she left, coming back from London to Coventry," the spokesperson said.
"We are inviting back all the original cycle team members - there were over 100 - who rode Godiva to London last year.
"The city's ring road will be closed on one side for the day on August 10th so anyone can ride alongside her on the day."
It is hoped the structure will play a part in future Coventry arts events like the Godiva Festival.
Lady Godiva famously rode naked on horseback through Coventry in protest against high taxes, but the puppet is clothed.
When not featuring in arts events, the puppet structure is kept in a warehouse and has regular health and safety checks.
The puppet is activated by four performers with Lady Godiva's head and eye movements being radio controlled.