M6 death lorry driver Robert Booth has driving ban cut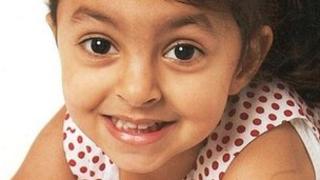 A lorry driver who was jailed for causing the death of a four-year-old girl on the M6 has had his driving ban cut by the Court of Appeal.
Priyanka Bhogal, from Coventry, died in hospital after the car she was in was hit by a lorry in November 2011.
Appeal court judges refused to reduce Robert Booth's four-and-a-half year jail sentence but cut his driving ban from five years to three.
Booth, 64, pleaded guilty to the charge during his trial in February.
The crash happened on the southbound carriageway of the M6 on 27 November, between junctions 4a and 4.
Booth, originally from Brockley Street, Sunderland, had initially said he might have fallen asleep due to a sleep disorder, rather than tiredness, before the crash. However, he changed his plea after the judge allowed him to discuss the case with his barrister.
In February, the court heard how Booth had been travelling at 55mph, despite gantry signs displaying a 40mph limit, and ploughed into slow-moving traffic.
The court was told Priyanka's parents' car was forced into a concrete barrier by Booth's heavy goods vehicle.
The four-year-old died in hospital after suffering severe head injuries.
Seven other people were also treated in hospital.