South Warwickshire A&E waiting times to be probed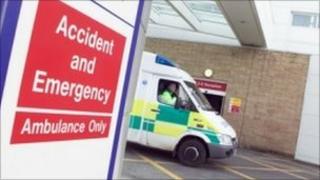 Hospital waiting times in South Warwickshire are to be investigated by the health regulator Monitor.
The watchdog said it would meet with the South Warwickshire NHS Foundation Trust over its "persistent breaches of A&E targets".
The trust has missed the target of four hour maximum waiting times in five out of the last eight financial quarters.
It said the failings were due to a rise in emergency admissions and in the number of patients with complex needs.
'Enforcement action'
Monitor's investigation is expected to judge whether the hospital trust has breached the terms of its licence and question its plans to tackle the problems.
A statement from the regulator said the trust should "address these issues quickly and effectively" or it would "take enforcement action".
Adam Cayley, regional director at Monitor, said: "Patients expect to see their services run well and by investigating at this early stage we can make sure that the trusts are able to address any issues quickly and effectively."
Glen Burley, chief executive of South Warwickshire NHS Foundation Trust, said an increase in South Warwickshire's elderly population had led to "more complex patient needs".
"At Warwick Hospital our emergency admissions have increased by more than 5% in each of the last two years. This was above the plan agreed with commissioners resulting in us narrowly missing the target in the second half of last year," he added.
Mr Burley said additional wards were being considered at Warwick Hospital and new agreements were being planned with GP commissioners, including further investment in community hospitals "to move patients who no longer need acute care".
"We will be working with Monitor to provide assurance that we are tackling these challenges effectively," he added.
The investigation is one of the first to take place under the licence regulation regime which came into force in April.