Coventry taxi maker considers move from Holyhead Road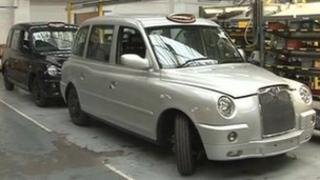 Coventry-based black cab maker The London Taxi Company has said it is considering moving from its factory but wants to remain in the city.
The taxi manufacturer is currently based at a site on Holyhead Road.
The company was sold to Chinese firm Geely in February after its previous owners went into administration.
Vehicle production is expected to resume in mid-August. A company spokesman said any move is likely to be to a purpose-built site.
Vice-president, Peter Johansen, said there was a real need to make the move.
'Poorer cousin'
Mr Johansen said: "This factory was built in 1927 so it's old and reached the end of its working life.
"We've already been in discussion with Geely that as part of their investment in us we're looking to find new premises to build the next generation of taxis.
"With modern facilities you can improve the quality of the vehicle.
"If you go to any Geely factory in China it's absolutely state of the art and we're the poorer cousin of them at the moment.
"It's most likely to stay in and around Coventry because we've got a lot of well trained workforces and we need the skills that those people bring to the business."
About 99 out of 176 jobs were lost after the move into administration last year although more than 30 new vacancies have recently been offered to former staff.