Blue tits on Warwick Parkway refuse to leave nest in bin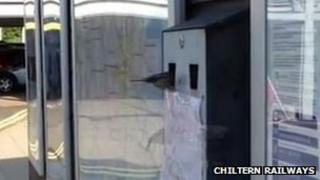 A pair of blue tits are continuing to live in a cigarette bin at a Warwickshire railway station, despite having a nesting box built for them.
The birds began nesting at Warwick Parkway railway station two years ago.
Chiltern Railways installed the nesting box above the cigarette bin in the hope the birds would move to it.
Chad Collins, the company's head of stations, said: "Customers have had to find somewhere else to put their cigarettes."
He said customers think the birds are "fantastic" and add to the ambience of the station.