Aaron Mann jailed for murder of Claire O'Connor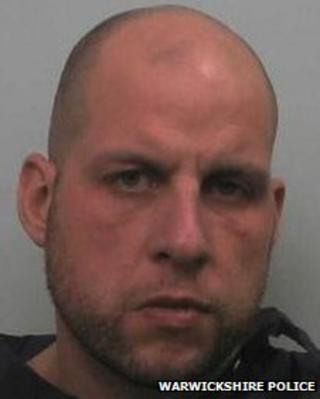 A man who drove around with the body of his girlfriend in the boot of her car for two days after strangling her has been jailed for life.
Aaron Mann, 33, from Nuneaton, had admitted the manslaughter of 38-year-old Claire O'Connor, claiming he had been hearing voices when he killed her.
But a jury at Warwick Crown Court convicted him of the mother of one's murder on Thursday.
Mann, of Church Road, was told he must serve at least 16 years in prison.
Ms O'Connor's body was found in the parked car on Montana Walk, Nuneaton, on 2 January 2012.
'Completely fabricated'
Emma Garnett, senior crown prosecutor from West Midlands Crown Prosecution Service's Public Protection Unit, said Mann had killed Ms O'Connor after a "domestic argument" in the early hours of 1 January.
She said: "Aaron Mann was claiming that he heard voices and that it was the voices that told him to kill his girlfriend.
"The prosecution have always maintained that the correct charge was that of murder and that Mann's mental health deteriorated after killing Ms O'Connor, and was therefore not the cause of him committing the offence."
Following the verdict, Ms O'Connor's parents, Graham and Patricia Griffiths, said their daughter had decided to leave Mann, but was murdered before she had the chance to do so.
"His suggestion that 'voices told him to do it' was, in our opinion, completely fabricated," they said in a statement.
"We have had to live with the terrible consequence of Mann's murder of our daughter, the details of which have been both shocking and graphic."