Daniel Pelka death case: School 'rang GP over boy's weight loss'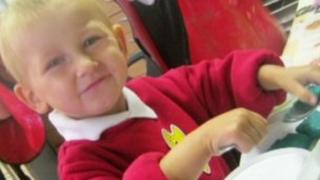 The school that taught a boy whose parents are accused of starving and murdering him, rang his GP with worries over his weight, a court heard.
Daniel Pelka, 4, died from a head injury in March 2012 after an alleged campaign of "incomprehensible" cruelty.
The deputy head of the Coventry school at the time, said she "noticed a loss of weight", Birmingham Crown Court was told.
Daniel's mother, Magdelena Luczak, and partner, Mariusz Krezolek, deny murder.
The pair, who came to Britain from Poland in 2006, also deny causing or allowing his death but both have admitted a charge of child cruelty.
'Acted quickly'
Jurors were told by Little Heath Primary School's former deputy head, Gillian Mulhall, staff noticed Daniel's weight loss after the Christmas break and said his "clothes seemed too big".
Ms Mulhall claimed she tried to contact the school nursing service on an emergency number but did not get a response.
She told the court: "I knew I had to do something and act quickly so I rang his GP."
After speaking with the GP, Ms Mulhall then had a conversation with Ms Luczak to ask that Daniel was taken to the doctors, jurors heard.
The court has previously been told how Daniel looked in bins for food.
'Insatiable appetite'
Gurmit Bhamra, an education welfare officer for Coventry City Council, told the hearing she visited the family home to talk about Daniel's absence from school.
Ms Bhamra said she tried to arrange a pick-up-and-drop-off service from school for him, but felt his mother was not entirely happy about the arrangement.
Another witness, school help support worker Andree Willams, told the court she visited Ms Luczak on a number of occasions to offer advice on his toileting behaviours.
She said Daniel's mother had said he had "an insatiable appetite and he'd kick and punch if he didn't get food".
Ms Williams added Ms Luczak had claimed he was getting four meals a day, although the support worker admitted she had never met Daniel.
The trial continues.