Daw Mill miners wait to hear about benefits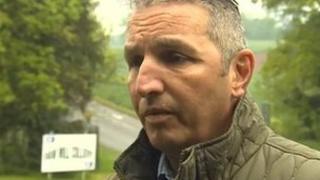 Miners from a Warwickshire colliery shut following a fire still do not know what benefits they will receive.
Most of Daw Mill's 650 staff are set to be made redundant on Friday but could lose out on payouts and pensions if UK Coal begins insolvency proceedings.
UK Coal said it had "difficult decisions" to make and confirmed a pensions deficit of about £500m.
One worker said he was concerned by "a lack of leadership" from both the company and the government.
Ian Shorthouse, from Kingsbury, has worked at the Warwickshire mine for over 36 years and is currently on 60% of his wages, as he waits to hear if he will get redundancy pay from UK Coal.
The control room supervisor said: "You're up, you're down, you don't know where you're going.
"It was home to me. I spent more time at the colliery than I did at home so it's been a nerve-wracking last three months."
Mr Shorthouse, 53, said he has turned down job offers because he has been unable to give prospective employers a start date.
"I'm in limbo. I don't know where to turn," he added.
"You're getting no leadership from the top and that's all we want.
"We want this sorting out so people can move on with their lives."
'Absolutely atrocious'
The fire at the deep coal mine, which forced its early closure, was extinguished earlier this month.
About 56 million tonnes of coal is estimated to remain at the site where three miners were killed in accidents in 2006 and 2007.
Tom Gay, from the Union of Democratic Mineworkers, called the situation "absolutely atrocious".
Mr Gay said: "These men have been hard-working miners.
"They've produced all the coal.
"They've carried their dead colleagues out of the mine in recent years and to be faced with this situation is beyond belief."
Daw Mill staff fear if UK Coal went into voluntary liquidation, workers could receive state payouts instead of enhanced benefits if they were not transferred over to a new company.
Andrew Mackintosh, from UK Coal, said its "very generous" final salary pension scheme was a concern as it looked to reorganise its business.
Mr Mackintosh said: "We have a pensions deficit of around half a billion pounds with very few members now.
"It was different when we had 30 mines open and a lot of people paying into it.
"There are some difficult decisions that we all have to make if we can find a way through this.
"Our key thing at the moment is to find a way forward for the 2,000 jobs and make sure that we still play a part in the energy mix."