Royal Fusiliers veterans take fight to Downing Street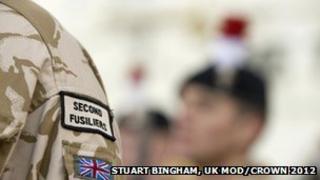 A group of veterans are taking their fight to 10 Downing Street to save the Second Battalion, the Royal Regiment of Fusiliers (2RRF).
The unit, formerly the Warwickshire Fusiliers, is due to be disbanded in June 2014, as part of Army cuts.
The veterans said "tens of thousands" of people had signed a petition against the battalion being scrapped.
Col Ian Brazier, chairman of the Fusiliers Association, said they had a "clear-cut case" for it to be saved.
He said: "2RRF is the best-recruited regiment in the British Army over the last 30 years.
"It's sustainable and highly experienced in operations so why would you get rid of it?
"There are 21 other battalions who are less well recruited. Scrapping 2RRF is like scrapping a first division team to support a third division one - it does not make sense."
The 2nd Battalion has close links to Birmingham going back about 100 years when the city recruited 30,000 men to fight in World War I.
The city's Lord Mayor, John Lines, will be joining the group of veterans at 10 Downing Street later.
He said: "Birmingham has many links with the armed forces, but the Fusiliers are our own regiment.
"How could a city the size of Birmingham not have its own regiment?"
An spokesperson for the MoD said the decision to disband the regiment had been taken to "balance the whole infantry structure".
"[It aims] to maintain variety of roles and parity of opportunity of experience for officers and soldiers and ensuring a solution that the Army would see as fair and equitable".