Mo Farah stamp sold at London 2012 auction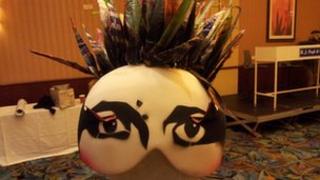 A large version of an Olympic stamp featuring and signed by Mo Farah has sold for £860 at an auction of items from the London 2012 Games.
Thousands of items are being sold at a two-day auction ending on Sunday at the Ricoh Arena in Coventry.
Items have included Team GB swimming trunks framed and signed by Tom Daley, which went for £740, and a one-off commemorative teddy bear sold for £750.
A replica of a javelin used by Jessica Ennis at the Games went for £660.
A scarecrow used in the opening ceremony sold for more than £2,000 and an Olympic torch signed by gold medal-winning sailor Ben Ainsley also reached the same figure.
A complete set of official lane markers from the Paralympic athletics competition went for £500.
Money raised from the auction will go to Locog, the Games' organisers.
Locog director Chris Holmes has said: "If there are any profits we will be making a statement in May about where they will be distributed."