Stuart Kettell starts Coventry stilt walk for Macmillan Cancer Support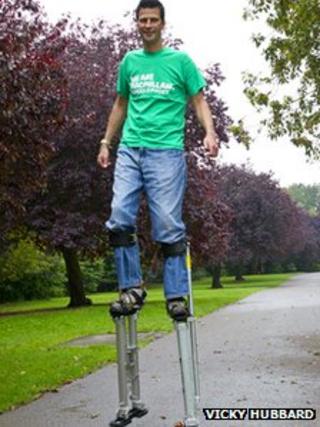 A man is set to walk on stilts along every street in Coventry for his latest fundraising challenge.
Stuart Kettell, 48, of Balsall Common, has raised more than £35,000 for Macmillan Cancer Support since 2006.
He set off from Broadgate and said he would stilt walk on all of the city's accessible roads, covering more than 500 miles (805km).
His past activities have included a week in a box suspended by a crane and running in a giant human hamster wheel.
Mr Kettell, a cameraman, said he wanted to start raising money for MacMillan eight years ago after filming cancer patients it supported.
He has since seen the help a friend received from the charity.
"I saw first hand the work that they do and it just inspired me," he said.
'Exceptional fundraiser'
He said as well as providing Macmillan nurses, the charity supported families and patients in areas such as knowing their welfare rights, providing advice about holiday and other insurances and pointing them towards other useful services.
"It's the whole organisation," he said. "It supports people through the whole cancer journey. People don't know what to do after being diagnosed."
Mr Kettell has been practising using the 3ft tall stilts since getting them six months ago and said he had so far managed to not fall over.
He said the worst part was pain caused by the clamps, which attached the stilts to his calves, and leg cramps from balancing.
He hopes the stilt walk will raise about £8,000 through fundraising and sponsorship, which he expects to take a month to complete.
A spokeswoman for the charity said: "Stuart has been an exceptional fundraiser for Macmillan over the years, and he keeps going one better with his feats to raise even more money.
"He is single-handedly making a real difference to the lives of people affected by cancer."