Coventry drivers warned over roadworks for pipes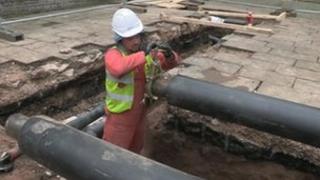 Drivers have been warned about possible delays while pipes are installed which will warm buildings in Coventry.
Heat from the Whitley incinerator will be used in nine buildings, including the cathedral and the council house.
Some lanes will be closed as pipes are expected to be installed on London Road over a period of up to 12 weeks.
The part of the project set to start on Tuesday on London Road will take place in stages from the ring road up to the refuse and recycling centre.
Cabinet member for city services Lindsley Harvard said: "We have made sure that London Road will remain open throughout the work and we are hoping that people will bear with us and allow extra time for their journey or plan an alternative route while the work is under way."
The project to heat buildings is due to start in September.