Daw Mill: MP calls for colliery to be 'mothballed' following early closure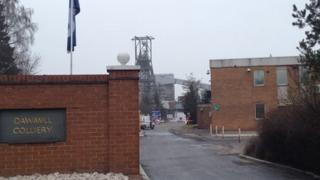 "The miners are devastated. They come out the school gates into the pit gates and that was it - it's all they've ever known."
Dave Meuse has worked at Daw Mill Colliery for 39 years and has spoken about the announced closure of the North Warwickshire mine.
Mr Meuse, who is also the branch secretary of the Union of Democratic Mineworkers, said that the fire, which has forced the early closure, is the "final nail".
"We would have had probably 12 months of good coaling, which would've generated a lot of money.
"The new man that's taken over the company, Mr McCullough [Kevin McCullough of UK Coal] seems to be a breath of fresh air and I think if we could've shown that we can generate the production that we used to, we may well have looked good for the future."
He added that the amount of coal underground goes "all the way to Oxford".
'They are experts'
Mr Meuse, who said he feels "empty", is concerned for the workers, but particularly the younger miners who are beginning their working life.
He said: "I'm 55, who wants a 55-year old miner with a bad back and bad hands?
"We're lucky really in the fact that we've been in the industry a long time and we've got a generous pension - it's the young lads that have got families and took on mortgages on the strength of being told they'll be at the pit for years and years."
"And they are experts, but if you're doing shelf stacking in a supermarket or loading up in a warehouse, all your mining skills are not needed."
Supervisor John Moffat added: "It's like losing part of your family because whatever you say, pit men, they're a breed apart.
"When the chips are down like the other Friday night [when the fire broke out] then we got rescue teams who were queuing up to go in and recover their mates, and it's a sad day to see."
Conservative Marcus Jones, MP for Nuneaton, has called for the colliery to be mothballed rather than completely closed in case anything can be done in the future.
'British Coal days'
He said: "I'm absolutely devastated, but more than anything, the priority are the people who work at Daw Mill and their families… We must do all that we can now to support those people that are going to lose their jobs.
"There is still a vast amount of coal down there, I think there are a few things that we need to address in relation to that."
He said that he is in close contact with UK Coal and the energy minister and is working on what can be done.
Councillor Ray Sweet, deputy leader of North Warwickshire Borough Council, also believes "it may be possible" to mothball and cap the mine.
In a joint statement with councillor Mick Stanley, leader of the council, he said: "We have had mining in North Warwickshire for around 300 years and this closure will bring an end to a longstanding mining tradition in our borough.
"We will do all we can to assist anyone who needs our help and will be working with others to see what the implications are for the area. "
Conservative MP for North Warwickshire and Bedworth, Dan Byles, said he has spoken with Energy Minister John Hayes, who is "adamant" that his department, and UK Coal, will do all they can to support the miners and local communities.