Coventry taxi maker LTI to 'restart production' by June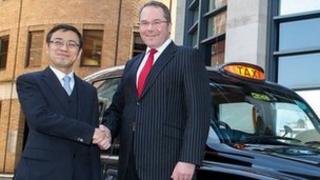 The black taxi manufacturer LTI has said it will take on about 100 staff to restart production at its Coventry factory by June.
The plant currently has 107 workers, after 156 lost their jobs when former owners Manganese Bronze Holdings went into administration in October.
Chinese car maker Geely bought the company for £11.4m the same month.
Managing director Peter Johansen said: "It's exciting because it will pretty much double the size of our workforce."
Mr Johansen said current workers had been repairing vehicles after faults had been found with steering boxes, which led to about 400 taxis being recalled last year.
He said the firm was now ordering parts and recruiting to restart production of black cabs by June.
"Customers are already responding to us being back in business. We've taken orders for 200 vehicles to Saudi Arabia and another 200 vehicles to Australia," he said.
Roger Maddison from the Unite union said it was "obviously good news" that production was restarting.
He said: "When the plant went into administration a few months ago, we had the worry that it would never reopen again.
"Some of the workers who lost their jobs in October found employment elsewhere but we'd like to think that those who'd like to come back, that the new company would take them on again and bring their skills back in."
Mr Madison said he did not know whether the company had already approached former employees to ask them back to work.