M6 lorry driver Robert Booth jailed for pile-up death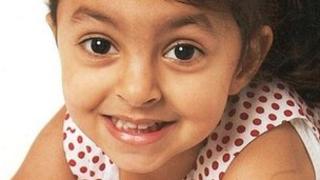 A lorry driver has been jailed after causing the death of a four-year-old girl on the M6.
Priyanka Bhogal, from Coventry, died in hospital after the car she was in was hit by a lorry in November 2011.
Earlier this month Robert Booth, 64, of Brockley Street, Sunderland, changed his plea to guilty on the second day of the trial at Warwick Crown Court.
Booth has been sentenced to four-and-a-half years in jail and disqualified from driving for five years.
The crash happened on the southbound carriageway of the M6 on 27 November, between junctions 4a and 4.
Booth said he might have fallen asleep due to a sleep disorder, rather than tiredness, before the crash, but changed his plea after the judge allowed him to discuss the case with his barrister.
'Pain we feel'
The jury heard Booth was travelling at 55mph, despite gantry signs displaying a 40mph limit, and ploughed into slow-moving traffic.
The court was told Priyanka's parents' car was forced into a concrete barrier by Booth's heavy goods vehicle.
The four-year-old died in hospital after suffering severe head injuries.
Seven other people were also treated in hospital.
In a statement, Priyanka's parents said: "We have had to wait and suffer to see justice done for over a year, on top of coming to terms of the loss of our daughter Priyanka under such tragic circumstances.
"The sentence Mr Booth has been given is nothing compared to the sentence which we will face for the rest of our lives.
"There will never be a day when we won't remember the warmth and love we received from our daughter and the pain we feel from losing her."