Daw Mill coal mining may end after 'ferocious' fire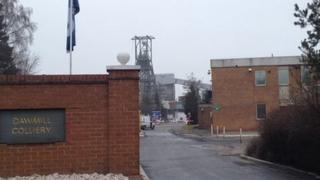 Mining is unlikely to resume after a ferocious underground fire at Warwickshire's last pit, UK Coal says.
More than 100 miners were evacuated from Daw Mill Colliery after the blaze broke out 1,770 ft (540m) below the surface on Friday afternoon.
Kevin McCullough of UK Coal said: "This fire is on a scale not seen for decades - the industry has seen nothing like it for between 30 and 50 years."
Daw Mill was due to close next year and its future is now in doubt.
UK Coal said it would take anything from three to six months to resume mining at Daw Mill because of the fire.
"Given it will now be closed for a number of months, the reality of us ever getting in there to mine commercially again is very very slim," said Mr McCullough.
The fire was caused by spontaneous combustion at an old coalface where salvage work was being carried out, said UK Coal.
'Unprecedented in scale'
Mr McCullough, the company's chief executive, said 96 miners were initially evacuated.
A team of 14 remained underground to try to bring the fire under control.
He said: "We deal with these fires regularly but this one was unprecedented in its scale and it became clear to keep the men underground was not the right thing to do and they were safely evacuated.
"The suddenness of the fire and its ferocity is something we train for and hope never to see, so the safe evacuation of over 100 miners is something the whole team can be proud of."
Mr McCullough said the fire was still burning on Monday morning, although it was showing signs of subsiding.
He said staff were able to work on the surface of the mine at Arley, near Coventry, but management teams were assessing the future of the site.
'Just speculation'
The Health and Safety Executive has begun an investigation into the incident.
Chris Kitchen, general secretary of the National Union of Mineworkers, said all staff at the colliery were asked to go to work on Monday as normal.
Those without specific jobs were sent home for the day on full pay.
He said: "It could be 72 hours before the fire is put out.
"Talk of work not starting up in that part of the colliery for another three to six months is just speculation."
The colliery's closure could lead to the loss of about 800 jobs.
Marcus Jones, Conservative MP for Nuneaton, said he was talking to the mine's owner and unions and was "hopefully" meeting ministers to discuss the future of the site.
"There needs to be a dialogue to try to make sure that we help the people affected by the tragedy," he said.