Coventry's shared junctions and 20mph zones 'reducing accidents'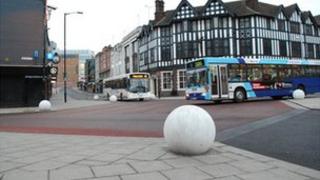 A lower speed limit and junctions where vehicles and pedestrians share right of way have reduced accidents in Coventry, a 12-month study has found.
The city council report, which focuses on the Hales Street and Gosford Street "shared spaces", also said motorists were keeping within 20mph.
Traffic lights were removed, roads narrowed and zebra crossings installed for the four-way junctions.
But opponents have described the spaces as "confusing" and "dangerous".
Awaiting further statistics
The report uses statistics that have been collected by the police for serious injuries.
In the five years before the "shared space" was installed at the Gosford Street junction, there had been 26 casualties, and for 2012, up until 18 December, there had been three casualties.
At the Hales Street junction, in the five years before the "shared space" there had been three casualties and there was one in 2012.
Councillor Lindsley Harvard, cabinet member for city services at the council, said: "What we've noticed from the statistics is that collisions have gone down, recorded injury accidents have gone down, average speeds have gone down from 21.5 mph to 18.5 mph."
He said the figures indicated the scheme was "highly successful" so far, but that the council would not be "absolutely sure" until there had been three years of statistics.