Coventry bin collections resume after snow and ice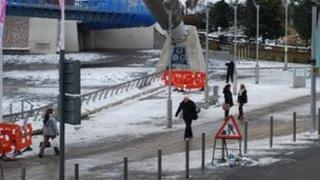 Bins are being collected in Coventry after services were suspended for three consecutive days because of snow.
A city council spokesman defended the decision not to collect bins on Thursday after criticism from the Conservative opposition.
Councillor Allan Andrews said he was "surprised" a partial collection did not take place along cleared roads.
But Labour councillor Lindsley Harvard said the authority had a duty of care to both employees and the public.
Mr Harvard, the cabinet member for city services, said: "We have a requirement under the Health and Safety at Work Act (1974) to assess the situation and protect not just our employees but the public and the property.
"When we went out to do the test in the wagon with management on board [on Thursday], we had two incidents which told us there was a real danger.
"In one incident a young girl wearing headphones walked out in front of the refuse wagon.
"The vehicle did a manoeuvre to avoid her and went into a skid."
More snow forecast
Mr Andrews said the Conservative councillors had fully supported the decision to suspend collections earlier in the week.
He said: "It was quite clear conditions were dangerous.
"Yesterday's decision to suspend the collection came as a surprise.
"We're not in a position to make demands but could a partial collection have taken place safely yesterday?
"I would argue yes it could have done."
More snow is forecast across Coventry and Warwickshire on Friday.
The Met Office has issued an amber warning for the West Midlands and said sleet and snow will spread across the area throughout the afternoon with heavy rain expected to follow overnight.