Ice stops Coventry and Warwickshire bin collections again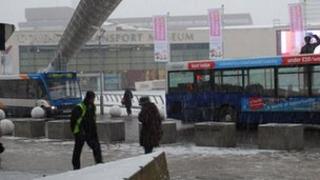 Bin collections have been suspended in Coventry and parts of Warwickshire for a fifth day due to ice and poor road conditions.
Coventry City Council said it had done a number of trial runs but some of the side roads were too dangerous.
North Warwickshire Borough Council said it had also suspended its service.
Nuneaton and Bedworth Borough Council said it would resume collections but would work over the weekend to clear the backlog.
A Nuneaton council spokeswoman said its waste crews had been clearing snow from the town centres when they were not able to go collect bins.
Hayden Phillips, from North Warwickshire Borough Council, said it was a difficult decision to suspend services again but they felt "it was for the best."
He said: "We know it is problem for people and we ask people to bear with us."
Stratford-on-Avon District Council said it had carried out collections throughout the cold snap.
The collections there are carried out by a private company Biffa Municipal.
Coventry City Council said people that have been missed this week should put their green lidded bin out next week on their usual day.
It said it would also take any additional bags of waste.
Recycling will be collected the week after next, as scheduled, the authority said.