Coventry and Warwickshire markets suffering snow losses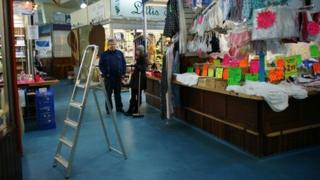 The usually vibrant market culture of Coventry and Warwickshire has been badly affected by days of snow and ice.
Nuneaton's Wednesday market has been cancelled for two weeks in a row, in a controversial decision by Nuneaton and Bedworth Borough Council.
Wellesbourne Airfield Market was also cancelled on Saturday.
Coventry Market traders have reported a "serious" decrease in footfall of over 50%, blaming people's fears about walking on icy pavements.
'Shoppers should not be put off'
Ian Powell, from labour-led Nuneaton Borough Council, defended the decision to cancel Wednesday's market.
He said: "To set up the market in the morning is an enormous operation starting at 04.30 in the morning. The risk of slipping to the guys that set the market up was too great.
"The county council has made the decision not to grit highways that have been pedestrianised, unfortunately that means the whole of Nuneaton Town Centre."
He said borough council workers had been hand-gritting and he believed shoppers should not be put off visiting the centre.
Green councillor Keith Kondarka opposed the decision but acknowledged the council had "sprung into action" clearing snow on Wednesday.
He said: "If they'd done this on Monday or Tuesday the market would have gone ahead."
'No customers'
Janelle Reid at Coventry Market said: "The pavements are very slippy. Older people won't walk on the snow in case they fall. It does affect us a lot.
"I've stood for a couple of hours at least with no customers. It's serious."
She believes the council should "look after the pavements".
Stallholder Regina Valentine added: "It's been the worst week that I can recall for trade. January's always bad but this is exceptional.
"I'd say there were 50% less people here than usual."
Wellesbourne Airfield Market, which usually has over 500 stalls was "too dangerous" to open at the weekend.
Owner Patrick Ripley said: "We do grit the site but we can only do so much. We're hopeful this week will be ok."
Economic slips
Peter Burns from Coventry and Warwickshire Chamber of Commerce said it was too soon to estimate the total economic impact of the freezing temperatures.
He said: "Businesses have been battling with not getting deliveries, not getting people turning up to fill up production lines, some people are struggling to get in."
West Midlands Ambulance Service saw an increase in people injured as result of slips and falls at the weekend, peaking on Sunday as the number of 999 calls rose by 14% in Coventry and Warwickshire.
On Wednesday Coventry and Warwickshire University Hospital in Walsgrave said it was operating "business as usual" with no significant increase in demand.