Were Rolls-Royce cuts in Ansty a surprise?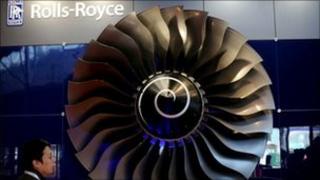 The announcement by Rolls-Royce that it is to close its UK defence operations in Ansty, near Coventry, came as a surprise to many.
The Labour MP for Coventry North West, Geoffrey Robinson, said he was "shocked" because "there was no prior warning or indication of job losses" which total nearly 400.
But is news that another large manufacturer close to the city is shedding posts really that unexpected?
In the last 10 years thousands of jobs have gone with the likes of Massey Ferguson, Ericsson and Peugeot closing factories in and around the city.
Add in companies such as Alvis and Daimler and where there has been boom there has also been bust.
These and other sites have since found new life as housing estates, retail parks and other commercial uses.
It was a different picture in the late 19th Century when Coventry witnessed the birth of car manufacturing. By the start of WWI, the manufacture of aircraft, armaments and telephones had all been thrown into the melting pot.
The new jobs helped grow the population from about 70,000 in 1901 to more than 330,00 in 1970, according to Coventry City Council.
'Dramatic change'
Ken Taylor, the former Conservative leader of the city council, first moved to Coventry in the early 1970s and recalls that it was clear then that major manufacturing was in decline.
Although some workers were still earning reasonably good wages, which meant there were a number of "high quality stores" in the city centre, "things changed so dramatically," he said.
"We're never going to be back in that world of large manufacturing."
But there have been some smaller success stories.
Penso is one such company which is thriving and manufactures parts for BAE and Mercedes-Benz amongst others.
The gaming industry is a sector that has grown with Codemasters in Southam one of the recent winners.
An expert from Warwick Business School believes the 378 job losses at Rolls Royce in Ansty are "related to defence cuts" made by the government.
Dr Christian Slater, an associate professor of strategic management, said it was impossible to predict where the cuts would fall but felt "they were expected".
"In the case of Ansty, they were mainly refitting and servicing engines which made up about 60% of the budget."
Dr Slater said it was a different outlook for the company's civil aerospace business which is also based in Ansty.
"I'm optimistic," he continued. "They have strong competitors but Rolls Royce has fantastic products.
"In 2011 the manufacture of engines was worth £800bn to the company, and servicing £600bn."
Dr Slater said there is reason for local optimism in the car industry too, highlighting Jaguar Land Rover (JLR), based in Gaydon, Warwickshire.
It recently announced the creation of 800 jobs at its nearby Solihull plant and is also looking to recruit about 150 new apprentices too.
"JLR has been delighting us with the good news that it's continuing to grow.
"They were struggling but Tata came in and had a clever way of positioning their high end products in emerging economies.
"Things can turn around."