Snow and ice hits Coventry and Warwickshire bin collections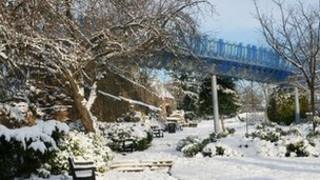 Bin collections have been suspended across Coventry and Warwickshire due to the snow and ice, councils said.
Coventry City Council said it had suspended its collections after carrying out a number of trial runs.
Some 30 schools across the patch are closed for a second successive day.
More than 330 were shut on Monday and those that remain closed are listed on the city council's website, and the county council's website.
Gritting lorries were out overnight because of falling temperatures and ice in the region.
A Met Office yellow warning remains in place with freezing temperatures forecast for the rest of the day.
'Losing control'
Councillor Lindsley Harvard, cabinet member for city services in Coventry, said: "We had hoped to be able to get crews out today but following inspections this morning and after a number of trial runs we have been defeated by the weather.
"Our gritters have done a fine job on the city's main road network and traffic is moving well but many of our side roads are still very slippery.
"We will not risk a bin lorry losing control in a residential area.
"We will do our best to get out tomorrow, but if temperatures stay below freezing and conditions don't improve it might again prove to be impossible."
It is a similar story for Nuneaton and Bedworth Borough Council.
An authority spokeswoman, Sarah Elliot, said: "Although the main roads are quite clear the footpaths and the side roads continue to be absolutely treacherous.
"With the cold weather overnight there hasn't been any improvement since yesterday so we have made the decision to suspend all waste collection services today."
A message on Warwick District Council's website said: "Customers are advised to present their grey bins and sacks as normal and we will collect as soon as possible."
'Slippery access'
The head teacher of Stoke Park School in Coventry, Matthew Pike, said the school was open on Tuesday, and defended his decision to close on Monday.
Mr Pike said: "We're not on a bus route. We're not on a main road. It's very slippery access and we're on a huge slope.
"I've walked the site this morning and we've thrown the extra grit down.
"We need to make sure children don't fall over and break their wrists because I know whose fault it will be.
"Even if I've told them not to do this and not to do that, it will be my fault."
London Midland said there was some disruption to its services because of snow but it is reporting no problems with trains in Coventry and Warwickshire.
National Express Coventry said the Number 4 Service was the bus operator's only affected route.
A statement on the company's website said it was because it was "unable to serve the bus stop at Belgrave Square and is turning left from Belgrave Road on to Attoxhall Road".
Stagecoach and Travel de Courcey said some of their services were still affected.
Nuneaton's Wednesday market has been cancelled, the borough council tweeted.