Gritters work overnight in Warwickshire as temperatures drop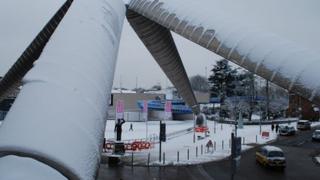 Gritting lorries will be out overnight because of falling temperatures and ice in Coventry and Warwickshire, councils have said.
Coventry City Council said they expected temperatures to fall to -4C (25F), and that highways teams would start going out at 19:00 GMT.
Warwickshire County Council said it had already spread 2,500 tonnes of salt and gritters would be out around the clock.
More than 330 schools were closed on Monday across the county.
Some have reported, via Twitter and the city council's website, that they would reopen on Tuesday.
Coventry University said exams which it cancelled on Friday, due to the severe weather conditions, had been rescheduled to Wednesday 23 January.
The Met Office has issued a yellow warning for severe weather in the West Midlands with temperatures expected to remain near freezing.
Chris Child, from bus operator Stagecoach, said it had been having problems on the roads in Warwickshire and may continue to run a revised timetable on Tuesday.
Mr Child said: "We have bus drivers out there trying to serve the routes.
"Some of the drivers live in the local community as well so when they come into work they can let us know roads aren't usable for our services."
'Taking away hassle'
Coventry City Council said it would have six refuse crews out on Tuesday to catch up with the bin collections it cancelled on Friday.
Lindsley Harvard from the council said: "Our advice for them and for every day this week is that people should leave their bins out and we will get to them as soon as we can.
"I hope people will bear with us if their bins are collected later than usual because we will be working as hard as we can to get to everyone."
The Midland Rover Owner's Club (MROC) said 20 of its volunteers had been out in the Coventry, Warwickshire and Solihull areas, helping to transport doctors and district nurses on their rounds.
Richard Smith from the group said he had worked for the past four days going out in his Land Rover to about seven calls a night.
"It takes the pressure off the doctors and nurses who are dealing with end-of-life patients or those who need a lot of medication.
"Some of the places they go are up side roads which are inaccessible to normal cars, so we take away the hassle of that so they can concentrate on treating patients."