Coventry and Warwickshire ice warning as more snow forecast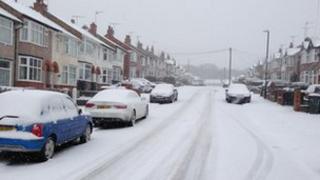 Coventry and Warwickshire can expect light snow flurries and icy conditions at the weekend, the Met Office said.
The region was hit by snow and temperatures remained sub-zero in Church Lawford for most of Friday.
The Met Office said some heavier snow falls were possible over the Dassett Hills during the night "where brisk winds may also cause snow to drift".
It added that there should only be occasional light snow flurries from Saturday morning.
Coventry City Council said gritters would remain out overnight if needed.
On Friday, West Midlands Ambulance Service (WMAS) said it had seen an increase in calls and some bus services were suspended .
Community spirit
All refuse collections that were due to take place in Coventry, Nuneaton and Bedworth were suspended.
Anne Armfield from Canley, Coventry, told BBC Coventry & Warwickshire about a "lovely" deed someone had done for her.
Ms Armfield, who had been worried about clearing her garden of snow, said: "I thought I can't get to the shed to get my spade to dig a path.
"I looked out of the window and it had all been done for me.
"Some kind person has cleared right through so I can feed my birds and get to my wheelie bins.
"I don't know who's done it but I want to say thank you.
"Neighbours always used to do that for one another but I didn't know people still did it.
"I put a big notice in the window to say thank you. I've written it backwards so it's the right way round."
Football fixture hit
Compared to a normal Friday, WMAS saw a 19% increase in incidents from 00:00 GMT until 13:00 GMT.
Steve Parry from the service said: "We're like anybody else when we go into those back streets to deal with patients.
"We have to deal with the icy back roads, find the house and struggle up the garden path.
"It is tricky and it's a challenging thing for the ambulance service and so our message for people is we're on our way to you but it might just take a little bit longer than it usually does."
Nuneaton Town Football Club's home game against Luton Town in the Blue Square Premier on Saturday has been postponed.
Leamington's New Windmill Ground is covered by about 6in (15cm) of snow and a pitch inspection is scheduled for 09:30 GMT.