Coventry and Warwickshire buses disrupted by snow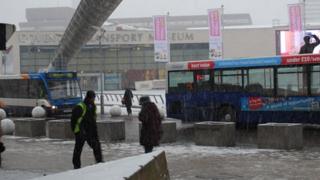 Bus services in Coventry and Warwickshire are being affected by the snow that has fallen across the region.
National Express Coventry said it had suspended "normal service operations". Travel de Courcey and Stagecoach said their services had been hit too.
At least 265 schools were fully or partially closed during the day in Coventry and Warwickshire.
The area is expected to get as much as 15cm (6in) of snow by the end of Friday the Met Office has said.
Warwickshire Police said it had taken 19 reports of traffic accidents within two hours and urged people to drive carefully if travelling.
Transport and schools
National Express Coventry said it would operate limited services along main roads in and out of the city centre for as long as it could.
Stagecoach is advising passengers to check its website for full details before setting out on a journey.
Travel de Courcey suspended all its services until the end of the day
Warwickshire County Council is tweeting updates to revised bus timetables and cancellations.
Coventry City Council and Warwickshire County Council websites had full lists of closed schools, but due to heavy demand, they were slower than usual to load at times.
Speaking about the closures, Andy Summers from the NUT in Warwickshire said deciding whether to close a school was always a difficult decision.
He said: "There's been so many official warnings from the Met Office etc about the build up to this snowfall.
"It does behold head teachers to make a judgement not just on what's happening right now but to predict what it may be like at about two o'clock when they are expecting buses, mini buses, taxis to get to many different places."
Other services in Warwickshire, including meals on wheels, were partially affected.
Hayley Deacon, meal service manager at County Enterprise Foods in Warwick, said that 90% of the deliveries had been made.
Gig cancelled
However, all refuse collections that were due to take place in Coventry, Nuneaton and Bedworth were suspended.
Coventry Rugby Club confirmed their home match against Rosslyn Park in National League 1 has been postponed.
West Midlands Ambulance Service said it had planned how to deal with the hazardous conditions.
Coventry-based Severn Trent has put on extra staff in their call centres and advised customers to insulate exposed pipes to stop them freezing.
Stratford Business Forum said its monthly breakfast meeting at the Shakespeare Hotel has been postponed until 25 January.
The Friday Night Dole Club music night at Taylor John's House in Coventry was postponed.
Promoter Reid Zappa Currie posted on Facebook: "Event cancelled but will be rearranged for another night very soon."
One event that is on is a snowman building competition at the Open Arms pub in Coventry.
Tim Lyons, who is organising the competition across the weekend, said the snow had got lighter during the afternoon.
He said: "We always get these weather warnings of snow and usually in Coventry we don't get anything so it's quite a surprise to get something for a change.
"It's a surprise, but a welcome surprise."