Community 'passion' saves Coventry's Butts Theatre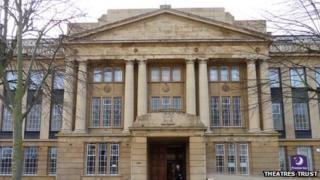 More than 80 volunteers have helped restore a Coventry theatre to its 1930s glory ahead of its reopening next month.
David Meredith, chairman of a trust set up to save the old Butts Theatre, said: "There's been so much passion for it.
"We have people of all generations, old and young, who have done so much and carried out so much work."
The volunteers, including a team of electricians who have completed an estimated £30,000 of work, began restoring the theatre last summer.
Renamed the Albany Theatre - the revamped venue is set to reopen on 1 February.
The trust estimates in total more than £80,000 in expertise, time and labour has been donated by those involved in the project.
The old theatre closed in 2008 as it was part of a site sold to make way for the Earlsdon Park project - a hotel, office and residential development close to the city centre.
'Amazing building'
Mr Meredith said the building at The Butts was originally an assembly hall for Coventry Technical College when it opened in 1935, but was converted into a theatre a few years later.
The venue, also known as College Theatre, went on to become the home for amateur groups and schools in Coventry for more than 70 years, giving many their first moment under the stage lights.
The beautiful Art Deco building, which includes a 650-seat auditorium, hosted musicals, dancing shows, concerts and an annual pantomime.
Mr Meredith said: "It's just an amazing building as well as being a very important community resource."
He said the theatre also "complemented" the provision from the city's larger Belgrade Theatre as well as the Warwick Arts Centre.
The closure of the Butts Theatre, when City College, as it had become, moved to Hillfields, led to a "spirited" local campaign to save the venue.
And in an "enlightened move" the city council entered into a section 106 agreement with developer MCD to save the theatre, he said.
Under the agreement, the Birmingham firm established a charitable trust to revamp and run the theatre. The Albany Theatre Trust was born a year ago and has since co-ordinated funding and the teams of volunteers involved in the restoration.
City's 'cultural life'
Chairman Mr Meredith said businesses had donated more than £20,000 of materials while work had included electrical rewiring, repairing damage, replacing inadequate toilets and revamping dressing rooms.
Since December, teams of people doing community service, supervised by the Probation Service, have also been involved in the work.
Mr Meredith said the old theatre was a "part of cultural life in the city" and some of the amateur productions had dried up without it.
The Theatres Trust, which promotes and protects UK theatres, said it was a charming 1930s auditorium which had "always been loved and used by the local community and students alike".
Mark James Price, planning and heritage adviser for the Theatres Trust, said it had supported plans to ensure a working theatre was secured within the new development.
"It's uplifting to learn that so many local people volunteered and cared enough to repair and improve the stage house, bringing this theatre back into the heart of the community once more," he said.
The Albany Theatre Trust now aims to run a sustainable theatre for both amateur and professional groups putting on a wide range of events, including opera, comedy, educational activities and youth theatre.
The trust's "vision" is to attract arts funding for Coventry and to be a patron for community arts projects.