Coventry's Feibusch mural 'is historically important'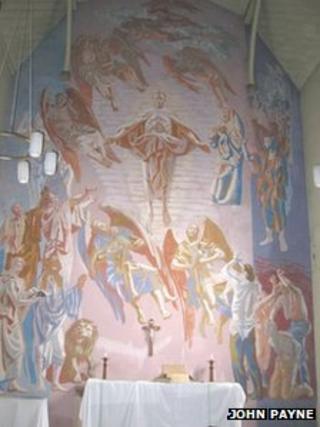 A 1960s mural which was hidden in a boarded-up Coventry church for years has been recognised as historically important by English Heritage.
The 40ft mural, on a wall inside St Mark's Church in the city's Swanswell area, is said to depict the second coming of Christ.
It was painted in 1963 by German-born Jew Hans Feibusch, who fled from Nazis in his home country in 1933.
The mural's new recognition means it will have protected status in future.
St Mark's Church, which is Grade II-listed, was built in 1869.
In 1970 it was declared redundant and was taken over by the Coventry and Warwickshire hospital who used it as an outpatients department.
The hospital stopped using the building in 2006 and it has remained empty ever since.
'Preserved for generations'
John Payne from the Coventry Society, which has campaigned for the mural to get protected status, said he was pleased its national importance had now been recognised.
He said: "We are hopeful that a productive use for the church will come forward in the near future and the mural will be preserved for future generations."
Feibusch was forced to escape from Germany after his work was featured in the 1937 Degenerate Art Exhibition put on by the Nazis to single out the modern style they saw as causing "cultural disintegration".
Once in Britain, the artist painted church murals and later converted to become a member of the Anglican church.
However, in 1992 he reconverted to Judaism. He died six years later.