Coventry job shop reopens in larger premises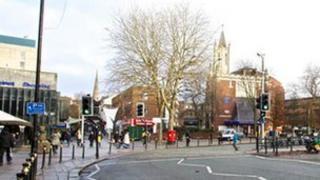 A new job shop, offering career help and advice, has reopened in Coventry.
Formerly a furniture store, the space in the Bull Yard will be used to help people find work and improve skills.
The job shop has moved to larger premises in partnership with CSWP (Coventry, Solihull and Warwickshire Partnership) and Jobcentre Plus.
Following its initial opening in March 2012, Coventry City Council said it has been a "great success" with more than 8,000 visitors.
Between July 2011 - June 2012, an estimated 13,600 Coventry residents were unemployed.
'Tackle youth unemployment'
A council spokesperson said the larger shop will offer a "greater range of job opportunities and career support".
The Labour-led authority added that 1,800 people regularly used the old shop in Hertford Street to apply for jobs and that "nearly 500" of these have been supported into work between April and August 2012.
It will also support an additional 200 "vulnerable" people to secure work, many of which would not be eligible for employment support through Jobcentre Plus, the council said.
Councillor Lynnette Kelly, cabinet member for city development, said: "We're relocating it [the job shop] and creating a new, enhanced service so that more people can get jobs, address skills shortages, create a Youth Zone and tackle youth unemployment in the city."
The Youth Zone will support an additional 250 NEETS (not in education, employment, or training), and the shop will also offer pre-employment training, literacy and numeracy support.