Road safety cuts 'catastrophic', says campaigner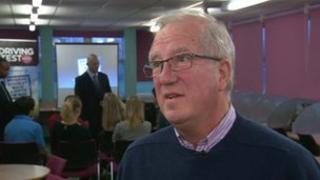 Spending cuts are putting the lives of young drivers at risk, a road safety campaigner says.
Paul Kerr, 68, from Warwick said budget reductions being made by the government and local councils were "catastrophic".
A report by the Transport Select Committee found 65% of councils in England cut road safety spending in the past year.
Mr Kerr has campaigned for improved road safety since his son John, 17, died in a crash in Coventry in 1992.
He was killed when the car he was a passenger in hit a tree in Finham.
Mr Kerr said: "Road safety units across the country are losing resources and with more cuts to come this year it's not acceptable.
"We can't carry on having the number of people killed on our roads without offering young people support before they start driving.
"The government needs to ring-fence some money that's dished out to ensure it's spent on road safety, not frittered away on some council initiative," he added.
'Not the answer'
The report by the Transport Select Committee said that councils had a "patchy" road safety record "because of budget cuts and the loss of skilled staff."
The government said road safety remained a top priority and it was considering new laws to improve conditions on the roads.
MP for South Staffordshire, Gavin Williamson, who is a private secretary to the transport secretary, said ring-fencing money "was not the answer."
"We want local authorities to have the opportunity to make choices where they spend their money but already in the Autumn statement we've seen a large slug of money going to councils for roads," he said.
"We hope to see a lot of that money going to improve road safety and designing roads that a safer for drivers."
The number of people killed on Britain's roads rose by nearly 3% in 2011, from 1,850 to 1,901, according to the latest government figures.
They showed road accidents were the main killer among 16-to-24-year-olds.