Warwick Hospital apology over death of newborn baby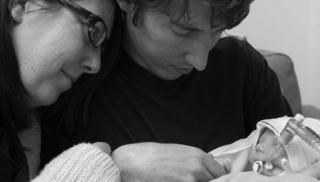 An apology has been issued by an NHS Trust after errors made by maternity staff at a Warwickshire hospital led to the death of a newborn baby boy.
Lucas Fermor was starved of oxygen during labour at Warwick Hospital on 29 May. He died two days later.
A spokesman for South Warwickshire NHS Foundation Trust apologised for the "delay in the delivery of Lucas".
Leamington coroner Louise Hunt recorded a narrative verdict following an inquest into his death on Thursday.
Brain damage
Ms Hunt, the deputy coroner for Coventry and Warwickshire, was told hospital staff did not monitor the baby's heart rate properly and failed to recognise he was in distress.
Lucas' parents, Natasha and Kent Fermor from Coventry, said he was born "white and floppy".
He had sustained irreversible brain damage because he had been starved of oxygen for so long.
Lucas was taken to Leicester Royal Infirmary for treatment but died in intensive care after he was taken off life support.
Mrs Fermor, 40, said because of her age her pregnancy was "high risk" and as such she should have been carefully monitored during every stage of her labour.
She said: "I'm a first time mother. I had no point of reference. I had no idea of anything untoward.
"It wasn't until he was delivered following the emergency caesarean section that we had any concept that there was anything wrong because it took them so long to resuscitate him."
She added: "Taking the final decision to turn off his life support is the most difficult thing I have ever had to do but we knew we didn't have any option and Lucas passed away peacefully in our arms."
Improvements made
Mrs Fermor has since been diagnosed with breast cancer and is now undergoing chemotherapy.
"I go to the hospital frequently and I trust the doctors," she said.
"I think they do an amazing job."
Glen Burley, the hospital trust's chief executive, said: "The trust has accepted there was a delay in the delivery of Lucas, which we sincerely regret.
"We have fully investigated events leading up to the delivery and have taken action in a number of areas to make improvements.
"On behalf of the trust, I would like to apologise and offer my condolences to Lucas's family."