Price Waterhouse Coopers 'positive' over LTI future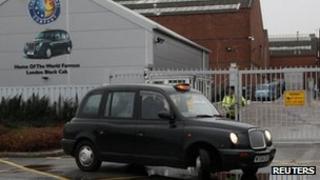 The accountants running Coventry-based taxi maker LTI are hopeful of selling the company to a firm that will keep production in the city.
Matthew Hammond of Price Waterhouse Coopers said there had been an "enormous amount of interest" from nearly 80 parties in the UK and abroad.
He said they were in "very positive dialogue" with a number of bidders.
LTI went into administration in October with 99 workers out of 176 losing their jobs.
It is hoped that a decision on the future of the business will be made in January.
'Positive dialogue'
Mr Hammond said: "We've got a great deal of work still to do, but we're in very positive dialogue with a number of bidders over the course of Christmas and new year period.
"We had nearly 80 parties contact us from UK and overseas, we've narrowed that down through the bidding processes and of those parties that we are still in dialogue with there is only one of those parties that didn't see any long term on-going need for the use of the Coventry facility.
"In my view, at the moment, the best outcome is continuity in Coventry."
Peter Coulson, from the union Unite, said: "The campaign which we launched some five or six weeks ago now has generated more interest than the administrators anticipated, and even ourselves, so there's some positives there."