Handball grass roots funding 'will help the sport grow'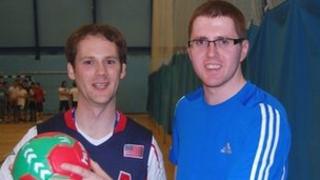 The headlines for the sport of handball made grim reading this week after UK sport removed the team's Olympic funding.
Both the British men's and women's teams had their £2.92m funding to support elite athletes cut completely after finishing last in their groups at London 2012.
But while that announcement was made, Sport England confirmed it was to increase grass roots funding for the sport from £600,000 to £1.2m.
Colin Littlewood, who co-founded the City of Coventry handball club within days of the end of the London Games, said the funding issue was a "chicken and egg situation".
"I can understand at the elite level you've got to have results in terms of teams winning gold medals, but without that money handball is never going to get to that top level internationally," he said.
"On the plus side, the Sport England money will help the sport grow by giving young people the opportunity to take part in a sport which they may never have tried before.
"That, to me, is where investment is most needed."
'Coaches enthusiasm'
Mr Littlewood, 25, formed the Coventry club with another city resident Paul Cross, 30, after they both contacted the existing University of Warwick handball club and decided to set up a club run for the public.
The majority of 35 players at the over-18s mixed club are in their early to mid-20s.
Mr Littlewood said the club had applied for about £1,500 from Sport England so that it could set up an under-16 team and start coaching sessions in schools.
He said: "It's about getting the sport more widespread at a younger age, because if we want a competitive Great Britain team for the 2020 or 2024 Olympics we need to get youngsters interested in the game.
"There is an enthusiasm amongst coaches to make that happen and there's definitely the talent in Britain to eventually get a decent team together.
"It's about delivering quality coaching to youngsters who are 10 and 11 now so they have 10 or so years of it behind them, so that they're eventually up to the same standards as other players in Europe," he added.
Mr Littlewood said some of the money would also go to running a women's handball team.
The club currently plays in friendly matches and one-off tournaments but is hopeful of having men's and women's teams in regional leagues from next season.
"The long-term goal of the club is to have a player from here go on to represent Great Britain," said Mr Littlewood.
"That would be a greater achievement than any match or league performance we could ever have."