Nicola Payne disappearance: Parents' anguish goes on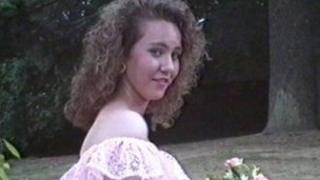 "I have a special time of the day where I sit and I think about Nicola. I even talk to her picture and I always think about her," says Marilyn Payne of her daughter who went missing in Coventry 21 years ago.
"When I go to Ascot I sit and ask Nicky's permission to put make up on because I don't like going to big dos."
Ms Payne was 18 when she went missing in the Henley Green area on 14 December 1991. She had a six-month old son at the time.
"I don't like going to parties and I'm in bed for 10 on New Year's Eve. I cannot see the point in celebrating something when I haven't got the person I want there.
"That's how I handle it."
No-one has ever been charged in connection with the case and on the 21st anniversary of her disappearance, West Midlands Police has renewed its appeal for two men spotted near the area in Henley Green where she was last seen.
'End our misery'
The force's investigating officer, Det Insp Martin Slevin, said: "During the past few months a full investigative review of the inquiry into Nicola's disappearance has taken place.
"We have been able to apply modern investigative strategies to what is a 21-year-old investigation.
"This fresh review has identified several potential lines of inquiry."
Hopes were raised in June when police dug up an area near Purcell Road in the city.
But no remains were found and two men arrested at the time of the dig were released.
Ms Payne's father John said dealing with the unanswered question of what happened gets harder every year, but he remains optimistic.
Mr Payne said: "I think something will happen this time.
"They're saying that they're reading all the statements again and there are lines that don't add up.
"They're trying to put those bits together now.
"Somebody in that area knows what happened. All I would say is, put us out of our misery.
'Life sentence'
Mr Payne's wife Marilyn said being without her daughter, who she has always feared is dead, really hits home around the festive period.
"We've got great-grandchildren who don't understand," Mrs Payne continued. "They're all excited about Christmas.
"I can't be bothered to put decorations or the tree up.
"We just try and do what we can and then have our own quiet time and talk through who we wish could be there.
"There's not a day goes by that I don't sit and have her in my thoughts.
"Whoever's guilty of this has had 21 years freely enjoying their life and we've had 21 years of a life sentence.
"It never leaves you."