M6 in Warwickshire reopens after tanker fire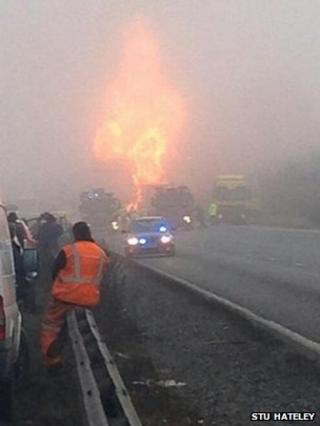 The M6 in Warwickshire has reopened after a chemical tanker fire led to scores of motorists being stranded.
They had to abandon their cars to move away from fumes as firefighters tackled the blaze between junctions 3 and 3A, near Bedworth.
The motorway was closed in both directions with the northbound stretch remaining shut until 22:00 GMT.
Ten people, including eight firefighters, were taken to hospital but all were released after treatment.
The driver of the lorry, which was carrying chemicals and paper, was among those treated after they had complained of breathing difficulties.
The fire started at about 09:15 GMT on Wednesday after a tyre on the tanker burst and caught light.
Emergency services placed a 1,000m exclusion zone around the stricken lorry as a precaution.
This led to more than 100 drivers and passengers being forced to abandon their cars and walk to safety.
They then waited for news at Corley services.
However, the authorities involved in tackling the incident, the Strategic Co-ordinating Group, later said in the statement: "The group is able to reiterate its assurances to the public that no risk is posed.
"Any smouldering from the scene is a result of the burning paper and is not connected to chemicals."
The closure of the motorway, just south of Birmingham, led to tailbacks of up to three miles.
Many of the stranded vehicles were freed after highways staff removed metal barriers on the central reservation allowing vehicles to turn around.