M6 closed in Warwickshire after chemical tanker fire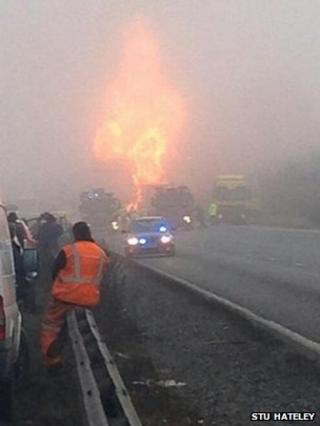 Motorists have been forced to leave their vehicles after a chemical tanker caught fire on the M6 in Warwickshire.
The motorway has been closed in both directions between junctions two and four, the Highways Agency said.
Drivers close to the tanker, which caught fire between junctions three and 3A, were evacuated from their cars and an 800m exclusion zone is in place.
Ten people were treated for breathing difficulties and taken to hospital. One is understood to be the tanker driver.
A West Midlands Ambulance Service spokesman said the 10 were taken to hospital as a precautionary measure and some have since been released.
He added that "a number of people, such as those with small children, who have had to abandon their vehicles, have been taken to Corley Services".
'Moving soon'
The Highways Agency confirmed staff had started to remove central reservation barriers and advised people to stay in their vehicles as "they could be moving soon".
Warwickshire Police said the tanker, believed to be carrying hydrochloride, had suffered a tyre blow-out and then caught fire on the northbound carriageway.
A force statement said: "Traffic is currently tailing back to junction two on the northbound carriageway and to junction five on the southbound carriageway.
"Motorists whose vehicles are stuck on the motorway close to the fire have been evacuated from their vehicles as a precautionary measure and moved away from the scene.
"The fire is in a rural area, with few houses. Residents are being advised to stay indoors and close their windows.
"The motorway is expected to remain closed for several hours and motorists are advised to avoid the area if at all possible.
"As a result of the motorway closure, surrounding roads are also heavily congested with traffic."
Warwickshire cricketer Darren Maddy said he was stuck on the southbound carriageway for some time.
He said: "There's been a lot of fire engines and ambulances and police cars.
"The northbound section of the motorway is completely empty.
"We're aware it's something very serious. Other than that it's very frustrating."
'Driving backwards'
Another person stuck on the motorway, Stuart Hateley, said: "I saw the flames in the distance - they were quite high.
"Everyone got out of their cars and started running past me.
"The police knocked on the door and asked me to leave. I walked all the way back for about 1,000m down the motorway and then coaches turned up to give us somewhere warm to sit.
"They are talking now about turning the cars around but it's going to be a while. I've been here since 09:40.
"We were outside for about two hours before the coaches got here."
A caller to BBC Coventry & Warwickshire, Robert, said: "I'm stuck on the M42 about 400 yards from the M6.
"The car drivers think they can be clever, turning round, putting their hazard lights on and driving backwards.
"I've seen most of them come back. I guess the police are sending them back."
The Highways Agency advised northbound traffic to come off at junction two and use the A46 southbound, A45 and then A452 in order to rejoin the motorway at junction four.