Bob Ainsworth to step down as Coventry North East MP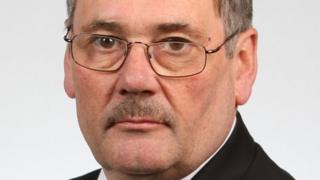 Former Labour defence secretary Bob Ainsworth says he will be stepping down as an MP at the next general election.
The Coventry North East MP, 60, said it was time, past the halfway point in this Parliament, to let his local party know so it can seek another candidate.
Mr Ainsworth, who worked at Jaguar for 20 years, became the area's MP in 1992.
The MP said he was proud to have produced the Service Personnel Command Paper which raised compensation for those injured on operations.
'Enormous privilege'
Other achievements he was proud of include "the many equipment improvements we introduced, including Vallon mine detection" and increasing the number of armoured vehicles.
Mr Ainsworth said it had been "an enormous privilege" to represent a seat in Coventry, the city where he was born and raised.
He added: "I want to thank my constituents and the very many people who have supported me over time.
"I will continue to work for my constituents and represent them to the best of my ability for the remainder of this Parliament."
Mr Ainsworth, who left school at 15, was a senior shop steward and Sheet Metal Workers Union branch president and went on to become deputy leader of Coventry City Council.
He became a whip in 1995 and was made a minister in 2001, first for aviation and then with responsibility for drugs and organised crime.
In 2003 he was made deputy chief whip and became armed forces minister in 2007 before being appointed as defence secretary in 2009.
Mr Ainsworth later became shadow defence secretary and currently serves on the Foreign Affairs Select Committee.
A spokesperson for the West Midlands Labour Party said he "is one of the most highly respected and senior Labour MPs" in the region, adding it was "very proud to have an MP of Bob's calibre and commitment".