Coventry Gateway plans recommended for approval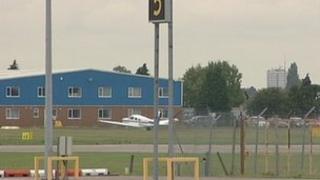 A business park scheme near Coventry airport has been recommended for approval by planning officers, despite more than 500 objections.
The £250m Coventry Gateway development will include offices, industrial units and a hotel.
City council planners claim the scheme will create 14,000 jobs and are recommending it be approved at a meeting next week.
But people living near the site have submitted letters against the plans.
As part of the scheme, a new technology hub would be created north of Coventry airport with a manufacturing and logistics park added to the south.
Claire Shand, who lives in nearby Baginton, said it would "destroy the village".
'Totally unnecessary'
She said: "This is going to be on a scale beyond anything that we've seen, we're talking about the area being engulfed in an incredibly large amount of development."
David Wintle, who lives between Baginton and Stoneleigh, said the scheme was "totally unnecessary".
"It's counterproductive to proposals for both Coventry and Warwickshire because we've already got sites like Ansty Park, the old Peugeot works at Ryton, which are vacant land waiting for development.
"So if you bring the Gateway scheme into this, those other sites are going to remain empty and barren for many more years."
Coventry City council has received 514 objections to the scheme from groups and people including English Heritage, Friends of the Earth and the Kenilworth and Southam MP, Jeremy Wright.
Lynette Kelly from the council said none of the objections were strong enough to justify refusing the plans.
She said: "There will be 10,000 jobs created on the site around the airport and up to 5,000 on the Jaguar site at Whitley.
"When there's jobs being created in the country I would rather they were in Coventry and Warwickshire than anywhere else."