Atherstone fire: Warwickshire County Council fined £30,000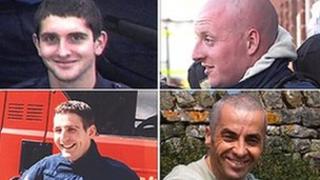 A council has been fined £30,000 over the deaths of four firefighters in a blaze at a vegetable packing plant in Warwickshire.
The bodies of John Averis, 27, Ashley Stephens, 20 and Darren Yates-Badley, 24, were recovered from the building in Atherstone-on-Stour in November 2007.
A fourth firefighter, Ian Reid, 44, died later in hospital.
At the hearing at Stafford Crown Court, Mr Justice Macduff described the deaths as a "dreadful accident".
Warwickshire County Council pleaded guilty to a health and safety charge in January.
Mr Macduff said the fine given "in no way" summed up the cost of the four men's lives but reflected deficiencies in record-keeping and information given to fire crews at the time.
He added the investigation had cost £5m in total and he had issued a £30,000 fine because he "didn't want the public purse to suffer any more than it needed to."
Mr Macduff also said he was satisfied the authority was now in "full and proper health".
Unlike most other fire services, Warwickshire is overseen by Warwickshire County Council.
Speaking after the sentencing, Warwickshire's community safety spokesman, councillor Richard Hobbs, apologised for the fire authority's failings.
Mr Hobbs said: "We pleaded guilty to the charge because we recognised and accepted that there were failings on our part back in 2007.
"No fire service can guarantee that nothing will ever go wrong again but we are confident that our service is as safe as it can be."
He also paid tribute to the four men who lost their lives and said the council offered its "deepest condolences to their families and friends."
'Absolute nightmare'
In May, three fire service managers were cleared of manslaughter in relation to the blaze at the vegetable packing plant.
Up to 100 firefighters, from Warwickshire, Hereford and Worcester and the West Midlands, and five ambulance crews were sent to the blaze at the site owned by Wealmoor Atherstone Ltd on 2 November 2007.
Firefighters worked through the night to bring the blaze under control.
On the morning of the 3 November, Warwickshire Police confirmed three firefighters were missing.
On 16 November the identities of the three missing men were confirmed as Mr Averis, from Tredington, and Mr Yates-Badley and Mr Stephens, both from Alcester.
Mr Reid, from Stratford, died in hospital.
His widow, Julie Reid, said: "No matter what amount of fine is imposed, it will not bring Ian back or turn the clock back so that I can stop him attending the fire on that fateful night.
"The judge said at a previous hearing that if he imposed a large fine, the only losers would be the taxpayers.
"I would like to remind him that the losers in this tragic event are the four men who lost their lives and their still deeply grieving families."