Atherstone-on-Stour fire investigation cost 'irrelevant'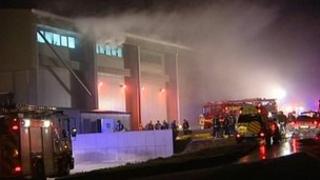 "I get very angry when people talk about how much the investigation and the trial has cost," said Julie Reid, the widow of a firefighter who died after a warehouse blaze in Warwickshire five years ago.
"Four men lost their lives, what does it matter how much it cost to investigate their deaths? They're entitled to justice."
Mrs Reid's husband Ian, 44, died in hospital after tackling the fire at the vegetable packing plant in Atherstone-on-Stour in November 2007.
The bodies of Ashley Stephens, 20, John Averis, 27, and Darren Yates-Badley, 24, were found in the fire-ravaged building.
'Nightmare'
Mrs Reid said dealing with the tragedy had been hard for both her and her daughter Sophie.
She said: "It's been an absolute nightmare and it's just completely destroyed our lives really, the past five years have been really difficult.
"It never goes away, you just live with it day by day, we both do."
A £4.6m police investigation followed the blaze and three senior fire officers were acquitted of manslaughter at Stafford Crown Court in May.
Warwickshire County Council was fined £30,000 at the same court on Friday after pleading guilty to a health and safety charge.
With the investigation over, Mrs Reid hopes lessons can be learned from the fateful night.
She said: "I think that all firefighters in the UK are entitled to the best possible training, the best possible equipment and the best possible leadership so that they can do their jobs safely."