Julian Mynott died trying to save drowning son in Barford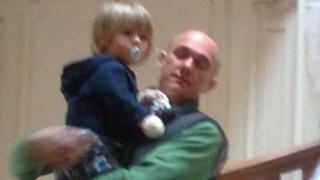 A father died trying to save his three-year-old son who drowned in a "horrible accident" on the River Avon in Warwickshire, a coroner has said.
Julian Mynott, 42, and his son Freddie were in the family's rowing boat when it capsized in Barford on 12 May.
Mr Mynott's two other children were rescued by villagers after the boat overturned near a weir.
A narrative verdict was recorded by coroner Sean McGovern at the inquest in Leamington.
A statement from Emma Mynott, Mr Mynott's wife and the mother of the three children, was read out at the inquest at Warwickshire Justice Centre.
It described the family as being close-knit and said they enjoyed going out on the river in the fibreglass rowing boat, which had an outboard engine.
Lifejackets dragged off
The inquest heard Mr Mynott had taken his children to see a fallen tree when the accident happened.
The boat was pulled towards the weir and capsized. Witnesses saw the three children struggling in the weir.
The children had been wearing lifejackets but they were dragged off by the force of the water.
Local residents used a rope to rescue two of them, Florence, six, and seven-year-old Archie.
Mr McGovern said their father Julian could have saved himself, but died trying to rescue Freddie in what he called a "horrible accident".
Det Insp Colin Jones, from Warwickshire Police, said "a dreadful set of circumstances" had led to the deaths.
Mr Jones said: "We'll never know for sure exactly the details between the point when they got on that boat and when they went over the weir.
"What we do know is the coroner's verdict reflects a tragic accident.
"A three-year-old boy and his father have lost their lives despite the efforts of a very close-knit community whose community spirit on the night was second to none.
"I'd like to thank that community, thank everybody concerned in the emergency services' effort.
"My thoughts, and those of my colleagues, go out to Mrs Mynott."