Coventry City FC faces £1.1m rent demand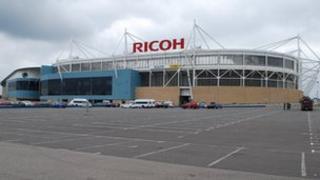 Coventry City Football Club (CCFC) has been given 21 days to pay its outstanding rent, according to the Ricoh Arena's operators.
Arena Coventry Limited (ACL) runs the stadium on behalf of owners Coventry City Council and the Alan Edwards Higgs Trust charity.
ACL said the club owed £1.1m in rent arrears and could face a winding-up order if it did not settle its debts.
The League One club said the rent was too high and should be renegotiated.
At £1.28m a year, it said the rent was believed to be the highest in both League One and the Championship.
In a statement it said it was "disappointed" by ACL's decision to issue a statutory demand, rather than "negotiate a level of rent which the club can afford and which is in line with the rent paid by other clubs".
It said other clubs in the league paid on average less than £170,000 a year and, unlike Coventry City, often made revenue from match day parking as well as food and drink sales.
£1.6m debts
In August, the club was taken to the High Court in Birmingham after stopping payments of £100,000 a month in rent to ACL in April.
The court told Coventry City FC to top up a deposit fund to cover ACL's unpaid invoices.
ACL said, despite negotiations over the past 10 months, no solution had been found and it was owed a total of £1.6m by the club.
It said it was now taking action to protect its own "long-term financial commitments" and those of its employees and shareholders.
The operators added that the club had "consistently exceeded income" and had "no contingency plans" to guard against a lengthy absence from the Premier League.
The club first moved into the stadium in 2005, four years after relegation from the Premier League.
ACL said Coventry City FC now faced a choice between a declaration of insolvency or a winding-up order.