Jimmy Weston music sparks plenty of interest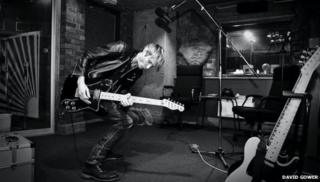 Jimmy Weston is a name listeners to BBC Introducing in Coventry and Warwickshire are familiar with.
Back in August the show's team picked up on his song Sparks and gave it its debut on the programme.
Since then Sparks and a whole host of other tracks have found their way on air on a regular basis.
Such is the quality of his tunes that Jimmy has rightly earned the moniker of Band of the Month for December.
But it would seem that BBC Coventry & Warwickshire are not the first to appreciate the talents of the Coventry musician.
And some admirers really are luminaries of the business, according to Jimmy.
Championed by Kravitz
The singer-songwriter started a band for "a bit of fun" after moving to Birmingham to study furniture design at the University of Birmingham.
With just one gig under their belts they became the focus of a bidding war from record companies.
It led to him recording demos for Warners, MCA, London Records and Indipendiente - the home of Paul Weller, Travis and Embrace.
He added that Sheryl Crow, Ocean Colour Scene, DJ Shadow and Lenny Kravitz are among those who have championed his music over the years.
But who are Jimmy's influences?
He said: "I got into music first through the blues - Robert Johnson , Gary Moore and BB King.
"I locked myself in my bedroom with my guitar. Then, when I started writing songs, I listened to all the great bands - Nirvana, The Cure, U2, Talking Heads and Crowded House.
"As long as the song means something and has emotion that's all that matters.
"I'd like to think my songs have that anthemic quality to them. All the influences are in there somewhere if you listen closely enough."
Dubstep project
Now back in Coventry, Jimmy has been writing and recording demos with his friend B.I.D, the drummer for Leftfield, and local producer John Rivers from Woodbine Studios in Leamington Spa.
The songs will feature in his yet to be released debut solo album Human Frequencies.
And that is not the only thing he is working on at present.
"I've also recently been approached by some big drum and bass producers who want me to front a new project, mixing rock with dubstep," Jimmy continued.
"I was blown away by their passion and work ethic so I simply had to get involved.
"It's totally different from my songs but I'm really exited about it."
You can hear music by Jimmy Weston on BBC Introducing in Coventry and Warwickshire on Friday nights between 20:00 and 21:00.